The Human Heart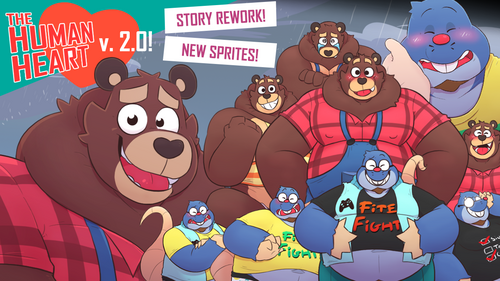 Hello! Leo here again! Welcome to The Human Heart 2.0 update!!
Heyyyy, I know there hasn't been an update for a while, honestly I took a break from the game for a little while cuz it was my birthday recently and things weren't going so well for me... It's no excuse to be lazy though, so I tried my best to get this one out.
Sorry for taking so long but here's a new update for ya'll! just a small little update that includes:
• New Sprites for Cade!
• New Sprites for Dylan!

• New Story Structure
• New Cade Cg!
• New Dylan Cg (Sorry if short.)
The update doesn't contain much story-wise because I want to redo all of the sprites from scratch so that they're more expressive. As well as to make it easier for me to give the characters new clothes when need be. Please bare with me if it takes me a while to write new story stuff, the restructuring of the sprites is proving to be rather difficult.

I know it doesn't seem like much, hence why I didn't mark it as a major update, but I hope you guys still like what I got, sorry for taking a break.
Sorry if the story is absolute garbage, it prolly is.
Please tell me what you think of the new sprites and cgs! I could use the feedback haha, and feel free to tell me about any bugs you might find <3
Happy datin' uwu