The Human Heart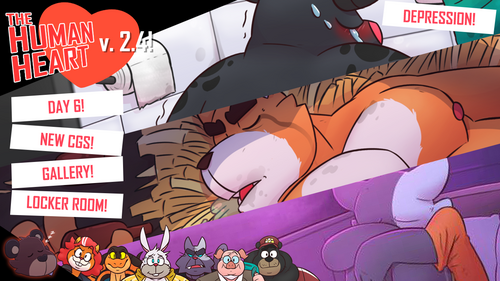 Hi welcome to The Human Heart version 2.4! (Big Sad Update)
WARNING FOR ANDROID USERS: please uninstall previous versions of the game before installing this new one, it might break some stuff otherwise. Thank you!
I know it's been seven months and i apologize for that haha. Like this update, I was also big sadge. I became espresso depresso, writing wasn't very fun at certain points and I guess I just lost track of time, but hey! We're back and I'm real proud of this one!
Huge shoutouts to @ChowUrsane for helping me with the day 6 writing and @ManelessBurr for making the entire the locker room!
And for the letsplayers who were playing my game while I was MIA, it was nice to know people still wanted me to keep going <3
If you're still here and haven't given up on me yet, here's an update lol!
This Update Includes:
• Full Day 6!
• New Cade Cg
• New Rorik Cg
• New Tyler Cg
• New Lars Cg
• Every single bonus scene is once again accessible (sorry about that)
• 4 New Townies
• More visible points menu (Dunno if it works on mobile, please let me know)
• New Pause Menu
• Extras Menu
• Image Gallery
• Sprite Locker Room
• End Credits
• Slight Sprite Polish
• Continuity Polish
Apologies if some secondary characters do not move during bonus scenes, I figured since they're not the main focus of the scene, I shouldn't make 'em move yet.
Also I have recently opened a Patreon for the game! It's lacking in content right now, but it will gain some over time. It's not required for me to keep working on it, it's more of a support button since I do not have a source of income.
Support the creators: https://www.patreon.com/leonthelionel
And if at any point I fail to deliver a new update in 2-3 months, I will close the Patreon until I can deliver an update for y'all.

As always any and all opinions are very much appreciated <3
For updates n stuff: @leonthelionel
Join the community (🔞18+ only!🔞): https://discord.gg/GUA32HnaUt
Known bugs:
None yet, please let me know if you find any